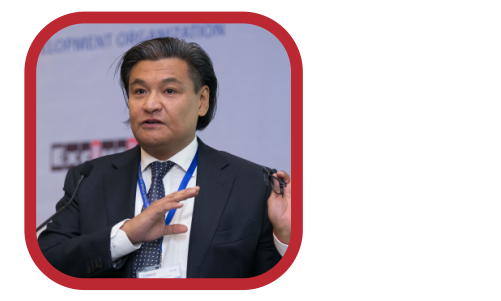 Kubatbek Rakhimov
Committee for Industrial Policy, Export, Infrastructure and PPP of the Chamber of Commerce and Industry of the Kyrgyz Republic
Chairman
Rakhimov Kubatbek successfully graduated from the Belarusian State University (Minsk) with a degree in politicy economics. He also holds a master's degree in business and public administration (EMBA, MPA).
In January 2000, he was appointed to the position of the director of a newly established representative office of the railway transportation company of Kazakhstan (Kazakhstan Temir Zholy) in the Republic of Belarus, Ukraine and the Baltic countries. In July 2001, he was transferred to position of the deputy head of the Kazakhstan Railways Representative Office (Kazakhstan Temir Zholy) in the Russian Federation.
From January 2002 to April 2002 he worked as an adviser to the Minister of Transport and Communications of the Republic of Kazakhstan – acting head of the newly established Transit Policy Department of the MTC of the Republic of Kazakhstan.
Since August 2002, he headed the consulting company "Center for Integrated Transport Solutions "TransEurasia", Moscow.
From August 2003 to September 2009, he headed the Belarus-Kazakhstan commercial and industrial center "BelKa", Astana.
In 2009-2013 he was a member of the Board of Directors – an independent director of "Astana Knowledge City" JSC, "Entertainment Center "Duman" JSC, "Kazagromarketing" JSC (all based in Astana), in 2008 he become a member of Kazakhstan Association of Independent Directors .
From January to March 2009, he worked as a director of the Strategic Planning Department of the "National company "Social and entrepreneurial corporation "Tobol" JSC (Kustanai).
From July 2011 to December 2015 he also was the founder and CEO of the consulting company "Smart Business Solutions Central Asia" (Bishkek).
In June 2014 he gained PhD in economics at the International University of Kyrgyzstan.
In 2009 – 2017 he took part in several important projects under the auspices of various international organizations aimed at studying industries, regional development, transport corridors, industrial and infrastructure development programs of the Central Asian countries.
He has managerial experience of work in various institutions of the four countries of the EAEC – the Republic of Belarus, the Russian Federation, the Republic of Kazakhstan and the Kyrgyz Republic.
As for today he is:
– the Chairman of the Committee for Industrial Policy, Export, Infrastructure and PPP of the Chamber of Commerce and Industry of the Kyrgyz Republic,
– the Member of the Council of the Chamber of Commerce and Industry of the Kyrgyz Republic.
From February to April 2016 he was an assistant to the member of the Board (Minister) of the Eurasian Economic Commission for Energy and Infrastructure, Moscow, Russia.
From November 2016 to August 2017, he was an adviser to the Minister of Economy of the Kyrgyz Republic regarding the issues of Eurasian integration, green economy, and relations with the business community of the Kyrgyz Republic.